How to raise money for schools
A seven page guide to raising more money with less effort - all the tips and tricks from the experts!
DOWNLOAD NOW
The insider's guide to fundraising for schools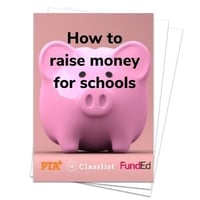 Do you know your CIF from your crowdfunding? This easy guide to school fundraising is packed with tips and tricks to increase your parent association revenue. This is a joint publication from the experts at FundED, PTA+ and Classlist.
Sound good? Fill out the form →