Happy children perform best in education and in life. It's one positive outcome of COVID that the education tanker has turned at last in favour of wellbeing and happiness over results, with the majority of educationists in agreement that when children are happy, they do better.
So it's no surprise that to ensure children are happy at school, they must be welcomed to your community from the very first day. Their transition to your school - whether that's from nursery, KS1, KS2, KS3 or mid-year, must be managed in a way that builds this confidence and sense of security - with the ultimate outcome being happy pupils with a final results sheet that goes beyond expectations.
The process of welcoming new children to your school begins in truth months before, on the first day their parents consider your school: whether that's on the school website, looking at a printed brochure or on an in-person visit. Excite new families perusing the brochure and online with happy faces and welcoming words; express how much you are personally looking forward to welcoming them on a tour of the school, and inspire them with the possibilities open to them.
Why does the welcome have to extend to parents as well as children?
Admissions teams invest enormous amounts of time, energy and resources into recruiting pupils to their school, so it's essential that those families continue to feel as special and important once the place has been offered and accepted.
Vested interests pay dividends
What's more, parents are more likely to volunteer their time and expertise to help the school or a fundraising initiative later down the line when they feel 'invested' themselves. People crave community and parents are in the fortunate position of having a ready-made community to join when their children start school. When they feel part of it, parents will willingly read to children in school, run bake sales, organise school uniform sales and give careers talks.
The welcome calendar
Autumn and Spring school tours, open days and taster mornings
Open days, school tours and taster mornings are your moment to show the school in all its glory - but don't forget to be human, too. People relate when schools feel real, not too stage-managed. Let your pupils shine today, but with guidance. Parents need to be shown the school in detail, touching on facilities, behaviour management, pastoral care, subjects, sports and expected grades. Children need to meet the teachers, see the equipment and watch fellow pupils enjoying their learning experience.
Late Spring / early summer
The hard graft of exams or paperwork is done - places have been offered and accepted. Now work with your parent teacher association to ensure that new families are included in all communications. The new parents will be keen to hear about school fundraising events, changes to the menu, new rules about keyrings on bookbags - all the day to day information which isn't likely to be shared on your glossy website or brochure! It's the tiny details that matter at this stage as parents look for reassurance that they have made the right decision.
This is a good time to add parents to your school communications tool - whether that's a Classlist community or other. If you have a Classlist community, they will automatically be sent all the emails and notifications via the app - they're already part of your world at school. When you sign them up, you can give these parents a specific QR code which gives them pre-approval access to your Classlist world online.
Encourage a Class Rep to introduce them to the year group or class and it's likely that they will strike up a conversation online. Parents will find each other and familiarise themselves with children too: those living near each other might reach out and suggest a playdate - the early phases of a friendship for life could well be created before the school term even starts.
Download our guide to creating a vibrant successful school community in 21 days
This eBook covers everything you need to know to build a thriving school community: from essential first steps to proven strategies for growth, engagement and successful fundraising.
Our analysis of thousands of school communities shows that it takes just 21 days to build a dynamic online group that lead to success.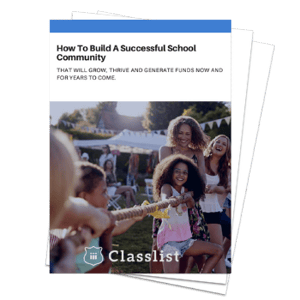 A gift to your school admissions and marketing teams
Your Classlist app and the community that goes with it is a gift; not only to new parents and their children, but also for your marketing and admissions teams. By fostering great communities at school, you'll be generating the word-of-mouth recommendations that far outperform paid for advertisements or even open days. Happy, engaged, parents are school's biggest advocates and best marketers and for many schools referrals account for more than 60% of their applications, offering the largest return on investment.
July
Working with your parent teacher association, ask them to set up a late July picnic or barbecue for new children and their families. This could include anyone from your youngest intake up to those few children joining for the final year of the school. Make sure your school office helps to identify friendly current children and parents to invite to the event. Children who are in older year groups are likely to feel shy and awkward - if they can have a fun afternoon at the park, while parents enjoy getting to know each other, you'll set them up for a less stressful holiday (the long wait!) and a comfortable first day. You might decide to offer them the school playground for this event to help the children familiarise themselves with their new school.
One week before Autumn term starts
As a head teacher, you need to be known well and widely among staff, parents and children. Consider sharing an introduction and a welcome via video message. Topics you might want to talk about include why you went into teaching, your favourite subjects and sports at school, the one thing you expect from all children and a personal challenge you've set yourself for the year. You can share so much of the ethos of your school - whether that's hard work, resisting perfectionism or valuing charity - in this short video. Send it to all new families the week before school starts.
Advice for teachers to help children settle on the first day
Named seats
Giving children a choice of where to sit is likely to lead to upset or embarrassment for a shy or new child. Don't give them the choice. You can always tweak the seating plan when friendships and rivalries become clear.
Learn names quickly
Ask students to write their names on signs on their desks and to wear name badges. It helps everyone when the whole class learns each others' names quickly.
School rules
Put up posters stating what pupils CAN do - not what they can't. So choose 'water bottles allowed' rather than 'no sugary drinks' or 'walk this way' rather than 'no running'.
Parent pack
Send home a welcome pack for the parents, including a copy of the timetable, an explanation of what home learning is expected and a personal note from the teacher. As before, introductions are key. Setting up a friendly and respectful relationship with parents will help the teaching staff long into the future.
A personalised note for new pupils
Consider sending a personalised card welcoming each new pupil ahead of them starting at your school in September, and share how excited you are to get to know them individually along with all their strengths and interests.
A personalised note for parents
Send a short message home to every parent in the first few days, telling them how their child has got along and what you've noticed about them. When parents feel their child is in good hands, they are less likely to be anxious - and less likely to be in frequent contact.
September: work with the PTA to continue communicating online
Ask your parent association to send frequent messages in the first few weeks of term, especially ones which will generate replies and a conversation in the app. By asking questions, they will prompt replies and the kind of online chatter which helps break down barriers between parents. Ask them to consider this task as an icebreaker. If your school uses Classlist, they will quickly see how well the community is interacting with one another. Above all - don't let a question from a new parent go unanswered!
Mid-September
Host a welcome drinks evening for parents, with teachers and the parent teacher association milling about, serving drinks and breaking the 'fourth wall' of school. You'll reap the benefits. When parents see the teachers and support staff as humans, they are more willing to support and even volunteer. You can ask the parent association to publicise this and even collect RSVPs on your Classlist groups.
Ongoing regular live events
Ask your parent association to set up a schedule of regular meetups - maybe a casual coffee morning after drop-off, or a more formal night out. Anything which encourages parents to get to know each other helps to bind the community together, establish great friendships between pupils, create happy students, deliver top class results and contributes to the positive momentum of your school marketing and admissions efforts.
---
Are you on Classlist yet?
Classlist's award-winning parent communications app is the safer alternative to public social networks. It's easy to set up! Be amongst more than 400,000 parents using Classlist in 30+ countries. Get started today!