Support & Updates
We are here to help! Find out how the app has grown through continual development
NEED HELP?
Classlist Support is here
Whether you've forgotten your password or need some help with setting up a school, we're here to help.
Check out the Classlist Helpdesk for answers to your school community questions and if you need to, raise your hand or a ticket and someone will be available to assist with your enquiry.
Software & App Updates
We're busy developing the app for the community
SEPTEMBER 2022
New mobile app
We're delighted the new version of our mobile app is now available in the App Store. We are continuing to tweak and polish and doing everything we can to make your parent life easier. Add your school run, update your bio, share which languages you speak and much more!

Coming soon to listings
We know it's a pain when you come across out of date content. We have added the option to mark your listings as sold to keep the content fresh on your community listings page. To help clear out any older listings, we will be doing a clean-up later this month. You will also see options to mark items as favourites and add multiple images easily. Take a look!
AUGUST 2022
New parent experience
Our fledgling Flutter mobile app is now available to our Android users! This provides a new interface and navigation to the traditional, but updated Classlist features as viewed by parents.
The work is by no means over; we have lots of plans and there's polishing going on behind the scenes, so thank you for your feedback and patience.
iOS users will discover the new app this September.
Using a PC? You will still access the classic web version for the time being. Try out the app instead?
Inspiration for eye-catching events
Looking for the perfect cover photo? Liz Parham, our product owner, has curated a collection of images, tried and tested for Classlist! Let us know what themes you like or would love to see!
JULY 2022
New app is on its way...
We're launching a new major release of Classlist soon. It's blisteringly fast, stylish and packed full of enhanced features - Parent finder, Messenger, Listings and Events that will boost your parent community.
We're really excited! Coming soon...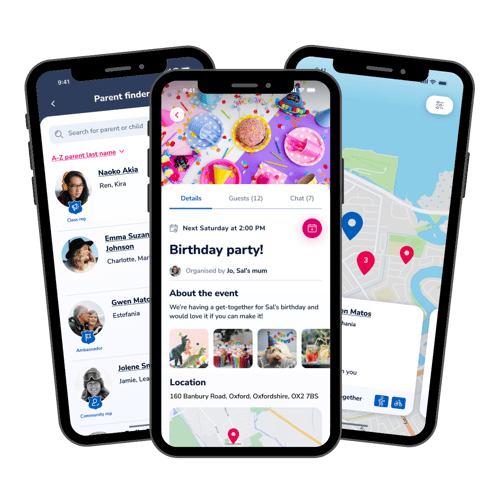 JUNE 2022
Sell more raffle tickets!
You can now sell Classlist Raffle tickets beyond your school community. We've enabled the public webpage which works exactly the same way as your events pages. Share the link widely! Good luck with your fundraising.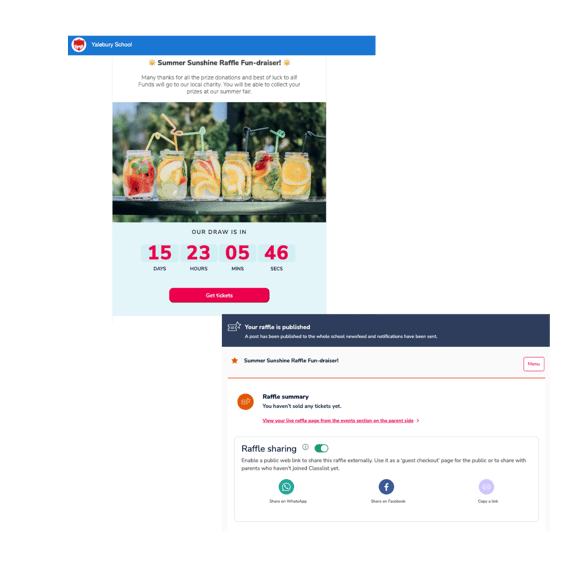 MAY 2022
Sneak preview
We have been listening to your feedback on the parent experience and weaving it into our fresh designs. Here's a sneak peak. Hint: We want any parent to be able to pick Classlist up and find the essential info they need fast!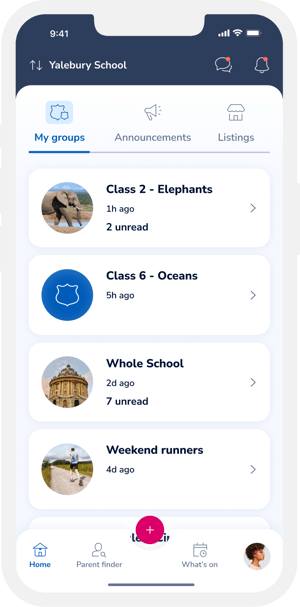 APRIL 2022
Bulk upload for admins just got easier
When you're inviting whole classes of parents, you can use a CSV list to upload to invite them in bulk. We've added in a handy tool for you to match each column correctly with its contents, as well as extra visual feedback while the file is being processed, plus more detailed reporting so you be confident about the results.
MARCH 2022
Marketplace & Quick Start
On Marketplace:
To help with fundraising, you can now mark your listing as "Charitable" and raise money for your PTA or any other cause while decluttering. Pop the details or donation link in the description.
You can now
categorise your listing
. This helps new parents see what types of listing are best suited to Classlist marketplace.
One of the categories is
uniform
; helping our members care for the environment with the sourcing or sharing of preloved uniform.
Lost & found has been simplified and is now
'Lost property'
. Also supporting reuse, we hope this helps you reunite many items with owners.
See an item you like,
send a private message
. This is more direct and effective than the previous commenting option.
Ambassadors will find a new "
Monitor Marketplace
" option on the admin menu. This is because marketplace items no longer appear in the feed; leaving the group chats for conversation.
Quick start:
Admins, if your school is
new or relatively new to Classlist
, be sure to visit the
Quick Start page
for the essential steps to take to get your community swiftly up and running. It also provides the option to book a live demo.
FEBRUARY 2022
Free websites
Our eagerly-awaited free events websites were released to our priority list. Early feedback is that "It's nice and simple, definitely easy for non-tech users."
General release anticipated for August.
JANUARY 2022
Time to declutter
We have been looking at how well the marketplace is working and coming up with a plan for some changes over the coming months.
Meanwhile, if you're not yet familiar with it, your school's Classlist marketplace is perfect for passing on outgrown school uniforms or finding bargain pre-loved items, without having to worry about all the trips to the post office.
PTA website update
We've been working on getting things in place for our new PTA websites for those on the priority list. However, partly due to demand, we do need a little longer, so we will be carrying this work on into February.
Sneak peak
The parent experience is going to go through some exciting design updates we think you'll love.
Watch this space!

DECEMBER 2021
Raffle feedback
"More intuitive and saves weeks of work"
We've loved hearing your feedback and how much you raised using our raffle competition option.

The competition questions have already been updated to cover raffles year-round, whatever the theme or season.

We have also added a couple of updates to the roadmap to help you continue to fundraise and reach more people. More on those in the spring-summer.
NOVEMBER 2021
Your PTA raffle prize draw competition
Enjoy all the fun of fundraising without the grind using our modern take on the traditional school fete raffle. Cashless, paperless, with limitless prizes, and mobile-friendly. Set up in under 5 minutes!
We think you'll love launching this to engage your school's Classlist community. Terms and conditions apply.
OCTOBER 2021
More volunteers, more currencies
Knowing how important it is to get parents involved for a thriving community, we have made it easier to get the right number of volunteers for your event. Up to 50 people can now add their name to any of your community event sign up sheets.
Given our fast-growing global community, we have added more currencies to our app to support schools in countries from Poland to Brazil, Japan to Switzerland.
SEPTEMBER

2021
PTA Websites
We know many PTAs don't have a website of your own but would love to reach more potential or new parents, as well as the wider community with your events. Good news!
We have put together a fantastic looking page which, not only is customizable, but can also be simply managed from your ambassador account.
You can set it up in no time. The best bit is it will stay up to date without needing you to edit it all the time, as your public events, created in Classlist, will also publish to this page automatically.
Priority access has now closed.

Find out more about our websites and how to access yours.
AUGUST 2021
User-focused sessions
You may have seen our recent user survey on your feed. Thanks for your comments to those who participated! We are a user-centric team, so love to hear how you're using Classlist. We run regular user sessions which cover everything from focused reviews to open interviews.
Contact us if you'd like to be added to our participant list.
JULY 2021
Refreshed styles
The home page has had a refresh in colours and styles to make the content more accessible, i.e. clearer and easier for anyone to read. We hope you like the greater contrast, larger font sizes and different colour tones.
JUNE 2021
QA Testing
Lots of tweaks are going on to improve the wording on the app and accompanying emails and notifications.
We hope our friendly texts and tips will mean we don't make you have to stop and think about what you can do here, you can just dive right into making friendly communities.
We have separated out your default groups governed by your children's classes and years, from groups for parents, activities and the community.
We have heard that people use these groups for language-specific groups, bookclubs, parent sports as well as volunteering at the school or in the community.
MAY 2021
Scheduled sends
Have you ever stayed up late drafting an announcement , but then realised it's too late to hit "send"? If so, you'll be pleased to know you can now draft or schedule your announcements! This is aimed at helping busy PTAs manage their time and send the announcements at the time best for their school community. You simply go to create an announcement as normal, but then can choose if you want to send now or later.
JANUARY 2021
Action shots
We have updated the app to improve camera and file handling for posts and comments. Now you can add photos to posts, comments & replies from your camera, as well as attach files.