7 Steps to starting a PTA guide
Download this guide for schools to help introduce or reintroduce a parent association.
DOWNLOAD NOW
7 Steps to starting up a PTA guide for schools and parents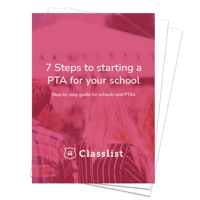 Are you considering setting up a PTA for your school? We applaud you!
But the daunting task of setting up a PTA from scratch (or restarting a lapsed one) can feel overwhelming. Just follow our 7-step plan and you'll be flying in no time!
Sound good? Fill out the form →