Starting Secondary School guide
Download this handy guide to help make the first few weeks easier for child and parent.
DOWNLOAD NOW
Starting Secondary School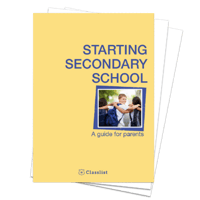 This short guide is designed to help parents make the first few weeks of secondary school easier for their children and give you a heads up on the issues coming your way - from mobile phones to homework.
They go from being one of the oldest children in school to one of the youngest. And then there's the unfamiliar timetable, buildings and people to get used to.
Sound good? Fill out the form →