Families looking to reduce fuel costs this autumn term have turned to Classlist's recently updated Parent Finder and school run feature. The lift share map service is growing in popularity on the parent community platform which not only helps reduce costs but has other other benefits too.
Once you've loaded the app, head to Parent Finder. The 'opt-in' Parent Map service allows you to locate and identify nearby parents who might be interested in sharing the school run to lifts to parties and after school clubs.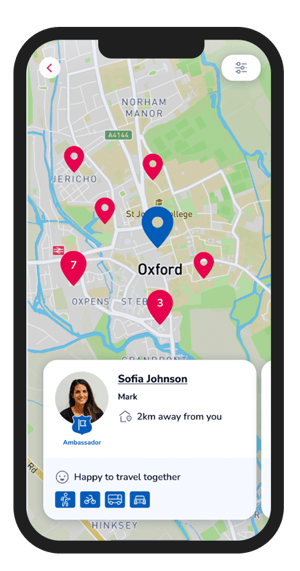 This doesn't always have to involve cars, and can be just as useful for pedestrians, cyclists or pupils using public transport to get to school. This feature will allow you to save time and money whilst also helping the environment. It also provides a great opportunity for families to connect and for pupils to travel safely together.
Note: When you 'opt-in' for the Parent Map, your marker will be visible only to those parents who have also opted into the system.
The platform has certainly made life easier for busy mother Polly Davidson, who found a lift share from the village of Holton, Oxfordshire, to the Dragon School in north Oxford. Holton is only six miles from the city – but with two return trips a day, Polly was regularly clocking up 120 miles a week.
"I now share the school run with another family from our village. It saves me from several hours a week sitting in terrible Oxford traffic, which - given all the recent road works - has been a godsend.
In addition, it's better for the environment and I'm spending less on petrol," says Polly.
Once you've opted in on your profile and settings, you can access the map and see which classmates live near you. Simply swipe through the profile cards.
"The Classlist School Run enables parents to organise lift shares with confidence," says Richard Murray, headteacher at Christ Church Cathedral School in Oxford.
For more information, or for more specific advice, please see our Parent Map Safety Tips.
---
Are you on Classlist yet?
Classlist's award-winning parent communications app is the safer alternative to public social networks. It's easy to set up! Be amongst more than 400,000 parents using Classlist in 30+ countries. Get started today!