Getting pinged too little or too often can be annoying. You don't want to miss out, but there are times when you need a quiet spell. We get it!
The school year is not consistent throughout in terms of activity, so during the start of term or before the holidays, you are likely to note a spike. At other times, you might want to hear a little more.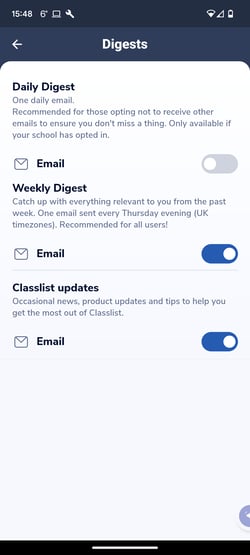 To give Classlist users more control and not miss out on your messages and invitations, we created the fledgling mobile app.

Here's how to adjust your settings:
Go to the notifications bell on the app header and tap the cog wheel to adjust your settings.
Check mobile settings are 'on'
Look down the list and adjust to your preferences
Top tips:
If you have the app installed, you are unlikely to want emails coming through too. So check that emails are turned off where an app notification is available.
Make sure the personal is left on; comments on your posts, private messaging and invitations to private parties. These are important for you and your child to be reached by classmates.
If you like to declutter via Listings, you will get private messages from people interested, so keep an eye out.
Missing out on updates?
Check you have the switches turned "on" for the content type in question, as well as the follow-up comments.
Love a bargain? Keep Listings turned on too.
Generally check everything is on either by email or app.
The absolute essentials
We highly recommend you keep these ones on always.
So if you need a quiet spell, these are the ones to keep on:
The weekly email digest. An excellent way to keep in the loop of the general goings-on without the pings throughout the week.
Private messaging: 'App' notifications are critical for real-time conversation.
Announcements > New announcements for your school and groups (leave comments and emails off)
Private invitations - personal invitations for you or your child
---
Are you on Classlist yet?
Classlist's award-winning parent communications app is the safer alternative to public social networks. It's easy to set up! Be amongst more than 400,000 parents using Classlist in 30+ countries. Get started today!