It's no wonder that social networks become ever more fraught spaces in the run up to Christmas. People are stressed and tempers start to fray. And when social media users get more 'likes' for angry posts there's no stopping the turmoil online.
Put that incentive to express moral outrage into a school parent setting and you've got fireworks just waiting to be lit. We're seeing WhatsApp groups filled with anger over Covid restrictions being reimposed and Facebook groups bemoaning the need to take in a different Christmassy item every day up to the end of term!
We're calling for people to take a slow moment to remember that Christmas is supposed to be a season of goodwill.
Calm and polite social network for schools
That's why we're pleased to share that Classlist's moderated alternative to social media is winning at keeping school parent communities calmer and happier. We build private micro-communities for parent communities, where they can chat, fundraise and sell stuff. The difference between Classlist and WhatsApp is that every parent can be included. Some parents simply aren't willing to share their phone number and consequently won't join WhatsApp groups. In addition, in Classlist all comments are moderated by the group administrator. This Classlist 'Ambassador' can gently defuse things if a conversation is getting personal, heated or just plain inaccurate. Parents can confidentially report a post if they believe it is getting unpleasant. The great news - we only ever see a tiny number of complaints raised among our 300,000 parents at schools in 20 countries.
We believe that school parent communities can and should be harmonious - after all, we're all there for the good of the children. It's one of the founding principles of Classlist.
Community guidelines that work
Susan Burton, Classlist co-founder and CEO said: "We're delighted to share that Classlist users really respect our community guidelines, which do not allow users to use the platform to complain about the school or individuals connected with the school. As a result, it's incredibly rare to see posts being reported by parents. We believe that happier parents lead to thriving school communities and Classlist is proud to facilitate that."
Because we believe that kindness starts at home, we've created a kindness 'gift guide' for December! This is a printable calendar for parents, PTA members and teachers to share with each other and with their children. Every day there's a little prompt or a nudge to do something kind. Some are more appropriate for children than their parents. We're guessing most parents don't need to be nudged to for e.g. 'Dec 27th - Clear up a mess you didn't make'! And some are more appropriate for adults for e.g. Dec 5th - Find some 'me time'! We hope you find it a bit of fun this festive season.
We wish you all a happy and healthy final few weeks of term.
🌟 Open the image below and you'll be able to print it out or share it via social media.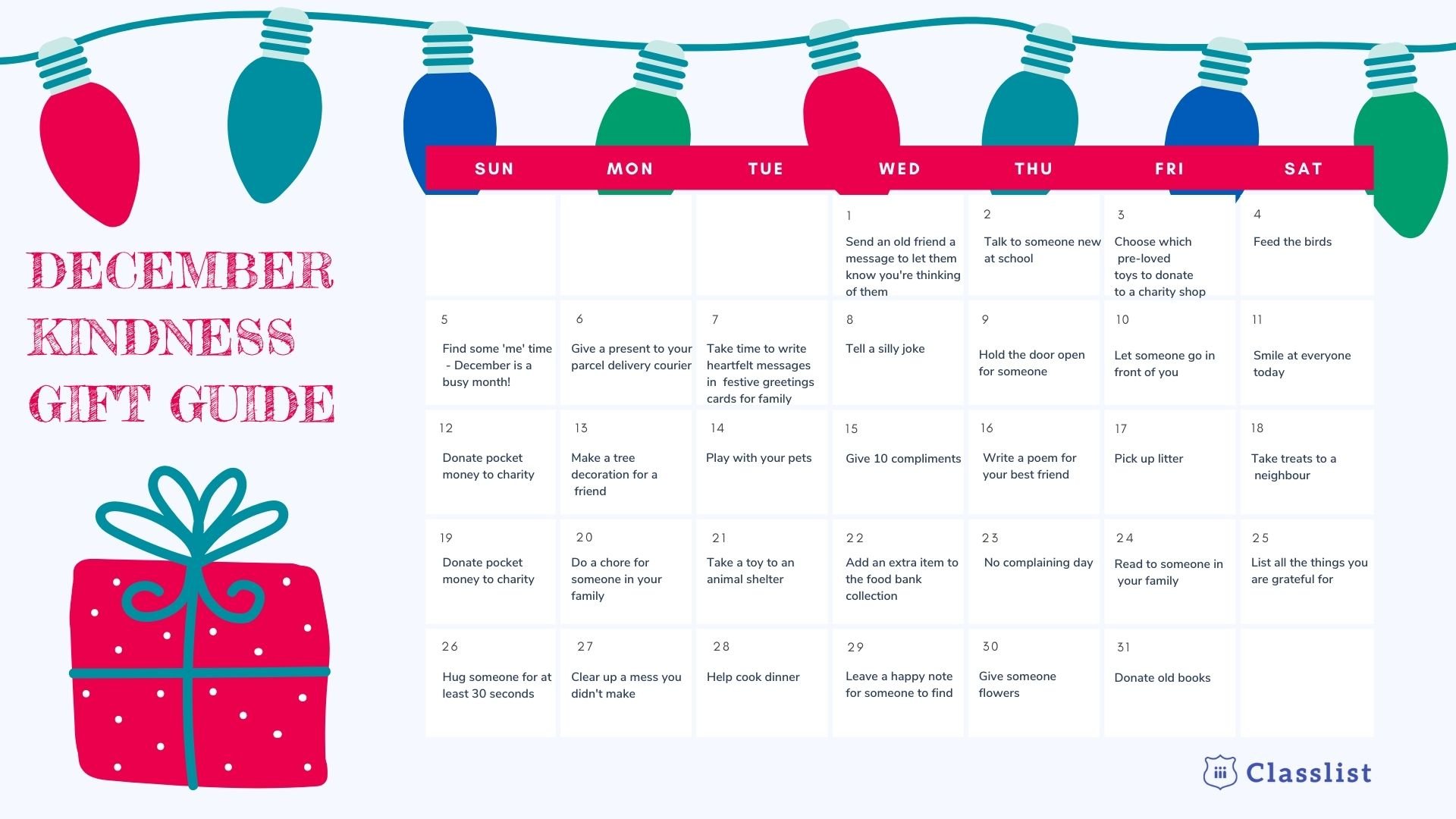 ---
Are you on Classlist yet?
Classlist's award-winning parent communications app is the safer alternative to public social networks. It's easy to set up! Be amongst more than 400,000 parents using Classlist in 30+ countries. Get started today!