With the first full spring to flex the parent association muscle since the pandemic, we think now's the time to jump on the fundraising bandwagon! There will be many parents who haven't experienced the joy of parent association fundraisers so bring them into your school community with some seasonal school fundraisers. Coming up, there's Valentine's Day, Comic Relief and Mother's Day - plenty of excuses to ask your parents to dig deep for the PTA.
Valentine's Day fundraising ideas for schools
Valentine's Raffle. You've still got time (just!) to set up a Valentine's Raffle using Classlist's new online raffle for schools. Ask parents to donate gifts - we find a shorter deadline prompts the best response. The donations don't have to be huge - a box of chocolates, a teddy bear or perhaps a bottle of fizz are fun, achievable suggestions. If someone has a diamond ring to give away, well, it's all good! A Valentine's Raffle is a light-hearted way to bring everyone together. All the usual raffles admin is done by the app for you.
Love Bake Sale. Love is the perfect theme for a cake sale. Heart-shaped cookies, red velvet cakes, rich chocolate brownies… you really can't go wrong!
Red day. Children go to school wearing red and white clothes in exchange for a small contribution to the parent association fund. It's fun, happy and takes no time at all to set up - once you have the headteacher on side.
Get your Event & Fundraising Ideas Guide
Take your fundraising up to the next level with some refreshed and exciting event ideas! Some 54 ideas, tips, tricks and more...

We've crowd-sourced real PTA fundraising initiatives from our Ambassador network worldwide to help you raise more for your school. Boost your takings with fresh ideas and ways to encourage more parents to get involved.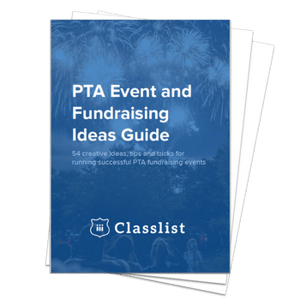 Mother's Day fundraising ideas for schools
In 2022 in the UK, Mother's Day falls on 27th March. Of course, it's really important to remember that this day is really difficult for children who don't have or live with their mothers. You might consider calling the day a Someone Special Day instead.
Posy perfection. Buy flowers wholesale and create pretty posies for children to buy for their special person at school. You might need a team of willing helpers to put the posies together, but who wouldn't want to spend an afternoon doing that if they had the chance!
Wine tasting. Host a wine tasting event either in person or online. With the help of a wine expert, you can all enjoy a great evening and learn something along the way. You'll have to give people a list of wines to buy in advance. If possible, encourage people to get together so they can share their bottles and split the cost.
Mother's tea party. Mother's Day lunches are an expensive way to celebrate and often pretty stressful when the children are still too small to want to sit politely in a fancy restaurant. Instead, why not invite families to the school for an old-fashioned afternoon tea? Sell tickets for the event on Classlist. You'll need a team of helpers to produce finger sandwiches, scones and miniature cakes. Use the school urns to brew up a selection of teas including Earl Grey and Darjeeling. While the mums relax, dads could take the children to the playground or field to enjoy traditional games including hoop throwing and badminton.
Find more advice on fundraising for schools here. We teamed up with the experts at PTA+ and FundEd to bring you this handy fundraising guide!
---
Are you on Classlist yet?
Classlist's award-winning parent communications app is the safer alternative to public social networks. It's easy to set up! Be amongst more than 400,000 parents using Classlist in 30+ countries. Get started today!