At the heart of every community are the events that bring everyone together - whether in real life or virtually. As PTA volunteers, you feel a deep sense of responsibility to help your community thrive by running these brilliant events. But when life is busy it can be a real challenge to pull it all together.
Classlist is a one-stop app for school parent communications and events. Classlist's PTA events feature is designed to make your PTA life easier, to help you raise more money for your school, and to recruit more parents to your volunteer community.
Make PTA life easier with Classlist
Here are 12 ways Classlist's Events tool will make it easier for you to run your PTA events.
One-stop shop

Classlist isn't just a one-way communication platform like other event management alternatives - it's a full social media platform and app for your school. Your approved members can communicate about your events with each other and get a buzz going, ask questions, make comments AND buy tickets.

Low platform fees

You can keep more of what you raise. Classlist keeps its platform event fees low (the lowest around!) by displaying ads to parents at schools on the free version of Classlist. (Some schools pay a subscription to have no adverts).

Easy and secure member management

You don't have to manage a list of people at your school in a separate event ticketing to your other platforms. If someone new joins school they can join Classlist and will be included in event comms without you having to manage your invitations at all. It's GDPR compliant, too.

Easy to use app

Because it's an app, parents stay logged in - they receive notifications and can buy tickets in just a couple of clicks as all their information is pre-loaded.

Event publicity and invitations

Set up an event as intuitively as you would on Facebook then choose whether to send invitations to the whole school or a small group.

Cashless, paperless tickets

Tickets are automatically sent by email and can be downloaded or printed.

Increased volunteer pool and easier task management

More people will volunteer to help as they can be nudged to sign up for a specific time slot or task when they book or buy tickets. Making the 'ask' small and specific is proven to increase willingness to help. Sign-up lists can be used to allocate tasks e.g. buy food, distribute raffle prizes or even to book Covid-safe appointments at the second hand school uniform sale.

No more complicated guest lists

Collect guest info, RSVPs and dietary needs as people book or buy. Attendees and their needs are logged in the app so you can manage catering and planning. Need to know who is picking up a child from the Year 6 disco, or what size T-shirt they need? You can add those as questions - and even Gift Aid declarations. All your guest info is compiled on Classlist and can be downloaded as a spreadsheet if you would prefer. No more making guest lists.

Reminders and calendar syncing

Attendees receive automated reminders and can choose to add the details of your event to their personal calendars.

Easy communication with guests

Send a message to just those coming to your event - you don't have to bother all parents with last minute updates about the weather. Or chase just those who haven't yet responded.

Guest checkout

Want to invite the local community to your Fireworks night, or sell school merchandise to grandparents? Turn on the guest checkout so that people who aren't members can pay.

Share the load with multiple event admins

We know PTA events are normally a team effort, so you can give admin access to your event dashboard to everyone who needs it - no need to share passwords as everyone has their own login on Classlist.
Get your Event & Fundraising Ideas Guide
Take your fundraising up to the next level with some refreshed and exciting event ideas! Some 54 ideas, tips, tricks and more...

We've crowd-sourced real PTA fundraising initiatives from our Ambassador network worldwide to help you raise more for your school. Boost your takings with fresh ideas and ways to encourage more parents to get involved.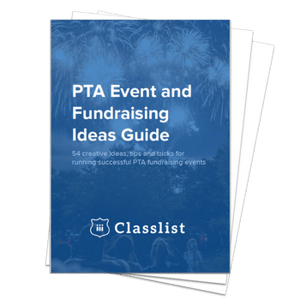 Set up a demo at a time to suit you and find out how Classlist can help your school's PTA events!
---
Are you on Classlist yet?
Classlist's award-winning parent communications app is the safer alternative to public social networks. It's easy to set up! Be amongst more than 400,000 parents using Classlist in 30+ countries. Get started today!