In the press we're already seeing that the Government's recent advice to work from home is impacting venue bookings and social gatherings. Many companies have cancelled their Christmas parties, citing concerns about the Omicron variant and possible further restrictions ahead.
Mixed messages about public gatherings the past few weeks from Government and health advisors means that party bookings were already down by 50%.
School event trends 2021
Here at Classlist, we've seen similar trends regarding social events hosted by school communities: more cancellations and fewer events organised. From the chart below you can see that this is part of a longer term trend during Covid. Unsurprisingly the total number of active events is substantially down from 2018 and 2019 levels. Meanwhile, cancellations are proportionally higher in 2020 and 2021.
What is evident from the data is that Christmas is vitally important in the school calendar, with more than ten percent of events mentioning 'Christmas' in their title during 2021. We also saw a recent resurgence of birthday parties which generally represent around 14% of all events on Classlist*.
Key events trends
Increased cancellations
The kind of events cancelled this year comprise the more inclusive whole school and in-person events that we all cherish and look forward to each year. Besides school fairs, we've missed out on many of the festive staples such as Carols by Candlelight, Carols by the Tree, Children's Nutcracker (and every other kind of performance and concert), Santa's Grotto and staff pantomimes.
Pupil events
For those schools brave enough to go ahead with events, these tended to involve pupils rather than the regular class parent drinks and dinner type gatherings. Popular events this year included Secret Santa, Kids Christmas Shopping, Christmas Dinner at School and Christmas Jumper Days. Father Christmas visits to the school and Father Christmas breakfasts were also popular.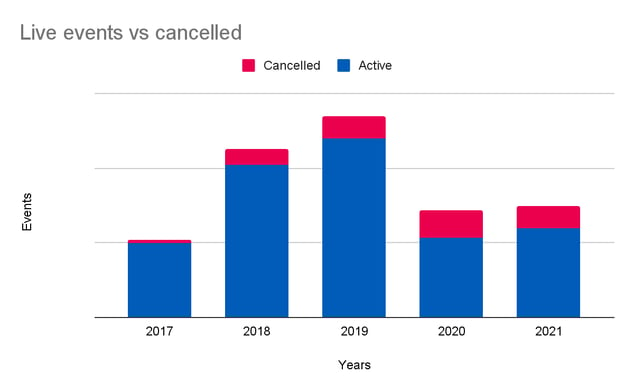 Fewer Christmas fairs
Compared with previous years, a much smaller cohort of schools went ahead with their Christmas Fairs. Those that dared were rewarded however, with good turnouts and high ticket sales including entry charges, tickets for activities and item sales. Wreath making, champagne tents, recycling of costumes, trading of books, bicycles and lego were all on the agenda during the past few weeks.
Most schools fell into the categories of: didn't attempt to run; or sadly cancelled their fairs earlier in the term. Instead many of them relied on the backstop of raffles for their festive fundraising. In the majority of cases these were hosted online and pleasing to see, many using Classlist's new online raffle tool for schools.
Interestingly, although the average number of events hosted per school declined from 27 events in 2018 to 12 events in 2021, the average number of tickets sold rose substantially: from 79 to 240. This reflects the greater reliance on online events which many schools have mentioned to us, as key to increasing attendance and inclusiveness. Easy and lucrative events include online quizzes and cookery classes! We've got many more great ideas for you to consider in this downloadable booklet of fundraising ideas.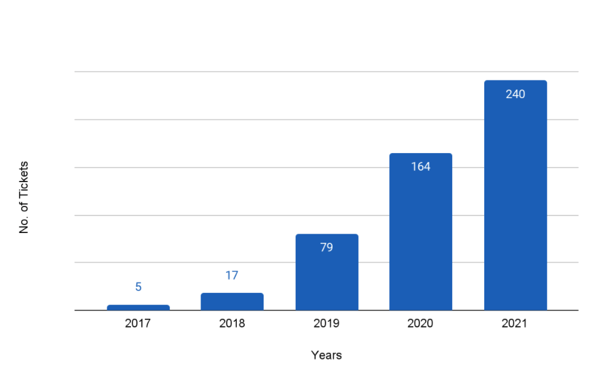 A significant increase in the average number of tickets sold per school. Schools have adapted and introduced online and hybrid events which have reached larger numbers of parents.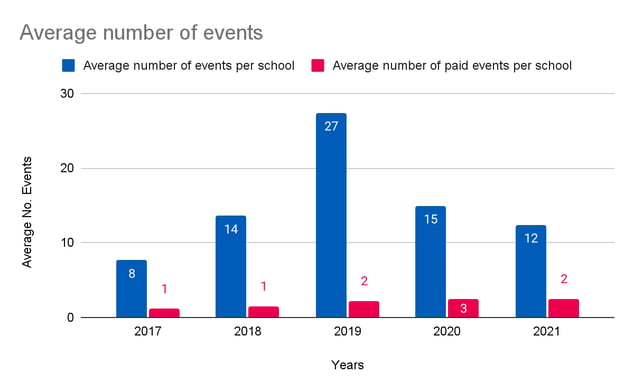 A decline in the number of events per school. Those schools continuing to host events are still selling tickets.
Will 2022 be more fun?
Well, our Classlist members are if not anything optimistic. Hundreds of in-person events are already scheduled for 2022!
In addition to the long list of birthday parties set up by parents, PTAs and schools are planning ahead and arranging both practical and social events. Leavers Hoodies and uniform sales are booked in the diary, in readiness of those school leavers who will be moving on next year. Along with other transitions we're seeing a smattering of new reception welcome coffees.
On the more fun side, school discos, glitter balls, cheese and wine tasting, international days, summer festivals and summer balls are in progress. In addition virtual events in the form of quizzes and book clubs are becoming seasonal regulars.
Here at Classlist we're crossing fingers that 2022 will mean zero or more realistically, fewer, cancellations. Classlist's free app is a parent communications and event management platform rolled into one. Are you ready to take advantage of a more sociable 2022?
* Charts and this article focus on school community led events and not parent hosted events on Classlist.
---
Are you on Classlist yet?
Classlist's award-winning parent communications app is the safer alternative to public social networks. It's easy to set up! Be amongst more than 400,000 parents using Classlist in 30+ countries. Get started today!